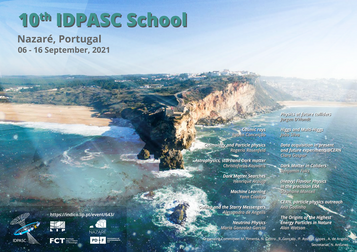 September 06, 2021 to September 16, 2021
The IDPASC Network is organizing its annual European school in Particle Physics, Cosmology, Astroparticle Physics and Astrophysics, in Nazaré, Portugal from 06th to 16th September, 2021.

The 10th edition of yearly IDPASC schools is organized by LIP with the support of Portuguese Science Foundation (FCT) and the City Hall of Nazaré. The students will benefit from classes given by high-level experts in the fields of Particle Physics, Astrophysics and Cosmology and tutorials given by senior PhD students or postdocs.

Event Webpage